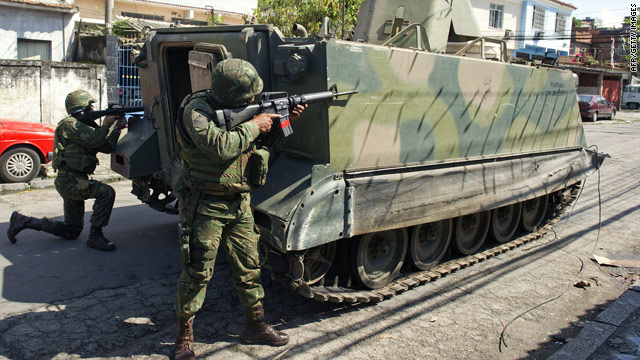 Rio De Janeiro, Brazil (CNN) -- Authorities sent in the military to help authorities quell violence that continued Friday in the slums of Rio de Janeiro in Brazil, with criminal gangs torching at least two more buses and five cars before dawn, state media reported.
At the Complexo do Alemao, or German Complex, in northern Rio, some 800 soldiers joined hundreds of police from the Special Operations Battalion, federal police and marines, state-run Agencia Brasil reported Friday.
Police and drug gangs exchanged shots during the night.
A key drug ring leader in the German Complex, 24-year-old Thiago Ferreira Faria, was shot and killed during Friday's police operations, according to Brazil's military police website.
Earlier Friday, Defense Minister Nelson Jobim met with the governor of Rio de Janeiro state, Sergio Cabral, and security authorities of the federal and state governments. The Army agreed to make available 10 armored vehicles and the Navy offered three helicopters, according to the news agency.
MORE